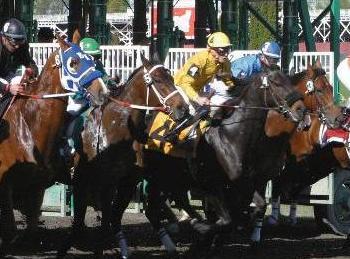 Portland Meadows Racetrack
The Oregon Thoroughbred Owners & Breeders Association (Oregon TOBA) is a non-profit corporation committed to serving the interests of Oregon's breeding and racing industries. Our mission is to increase public interest through promotion and advancement of the breeding and racing of Oregon Thoroughbreds. Our goal is to strengthen the Oregon Thoroughbred industry, in cooperation with our board of directors and members, both in breeding and racing with new innovative ideas and incentive programs for the betterment of our industry.

The Oregon TOBA administers incentive programs to reward our owners and breeders of Oregon-breds. A new incentive for owners and breeders running horses at the summer fair race meets in Oregon was implemented in 2008. The Oregon TOBA Summer Fair Circuit Challenge awards the connections of the 'High-Point' Thoroughbred. Breeder awards are paid on all Oregon-bred wins from the summer fair circuit, and owner bonuses are paid out to the top five High-Point Thoroughbreds from the summer fair circuit! Click Here for more information!

If you breed or own racehorses, it PAYS to be a member of the OTOBA and own Oregon-breds!
Oregon-bred Programs & Incentives
Foal Registration Incentive: $500 is paid for Oregon-bred Thoroughbred foals born in 2020, 2021 & 2022.
Purse Supplements: The OTOBA adds additional purse money to overnight races, stakes and handicaps.
Oregon Championship Day: The OTOBA sponsors Oregon-bred races and adds purse money. Oregon Championship Day is an annual event.
Hi Point Challenge: The OTOBA sponsors a summer fair meet challenge. Cash prizes are awarded to the owners of the top 5 fillies/mares and the top five colts/geldings.
Summer Fair Supplements: The OTOBA adds purse money to Oregon-bred races at five county fairs in Oregon.
Breeder's Awards: The OTOBA pays the breeders of Oregon-bred Thoroughbreds 20% of the 1st -5th place earnings from Thoroughbred races at Grants Pass Downs for the Summer 2020, Fall 2020 and Spring 2021 race meets.
Owner' Bonus: Bonus paid to owners of Oregon-bred Thoroughbreds who have earnings at the Portland Meadows race meet or designated commercial race meet. Bonus is dependent on monies received per Oregon Racing Statute.
The OTOBA awards trophies and blankets for Oregon-bred stakes and handicap races.
*bonuses and awards paid on Thoroughbred races only.
OTOBA BOARD OF DIRECTORS & STAFF
2021-2022 BOARD OF DIRECTORS
President
Vice President
Board
Jack Root, Jr. DVM
Gordon Tallman
STAFF
Lynnelle Fox Smith - Executive Director
Rob Douglas - Lobbyist, RPD Company
Oregon Thoroughbred Owners & Breeders Association, Inc.
P.O. Box 17248 ~ Portland, OR 97217-0248
Office: 503.285.0658 ~
Email: office@oregontoba.com